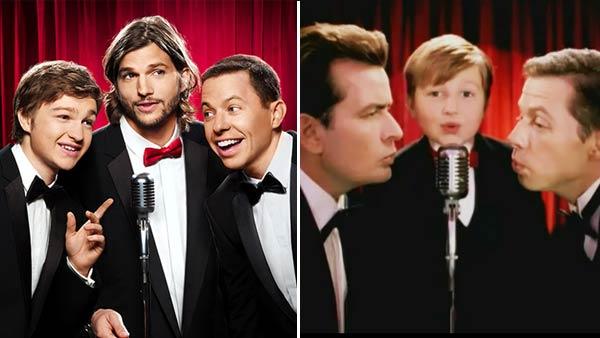 Ashton Kutcher featured in new 'Two and a Half Men' promotional photo
07/28/2011 by Kristina Lopez
Ashton Kutcher is stepping up to the microphone in the latest promotional photo for "Two and a Half Men" released by CBS on Thursday. The photo appears to indicate that the show will be keeping the same style for their theme song, where three of the main cast members lip synch to music. In the full photo, cast members Kutcher, 33, Jon Cryer, 46, and Angus T. Jones, 17, are in tuxedos with Kutcher wearing a red bow tie. In the show's original opening, which can be seen for season seven below, Charlie Sheen, Cryer and Jones lip synch to the Emmy nominated theme track composed by the show's creator Chuck Lorre and Lee Aronsohn. Jones' changing appearance was edited into the end of the clip as he got older with each season. Jones is the actor who dons the red tie in that version. In the
previous promotional photo for the series
, all three actors were featured shirtless and bare-legged holding a mysterious sign that reads: "All will be revealed..." and the date September 19, 2011, which will be the night of the show's ninth season premiere. Kutcher is replacing Sheen in the series after the actor was fired from "Two and a Half Men," one of CBS' most successful comedy shows, in March following months of personal turmoil and a slew of on-air rants against the program's co-creator. The
fate of Sheen's "Two and a Half Men" character, party-loving bachelor Charlie Harper, remains unclear. Recent reports said he may be killed off the series
. Kutcher's role on the sitcom has not been specified. The production company had said in its termination letter that Sheen had "been engaged in dangerously self-destructive conduct and appears to be very ill."
Sheen called his firing "illegal
" and later sued CBS and Warner Bros. Television for $100 million over his firing. The
case will be sent to a private arbitrator
, who will decide how the case will proceed, and will not go to trial, a Los Angeles judge ruled on June 15. Lorre and the program's production company, Warner Bros., were ordered by the court to file a status report of the proceedings before the arbitrator on or before Nov. 30. and the case is set to be reviewed two days later, according to legal documents obtained by OnTheRedCarpet.com. Meanwhile,
it was announced in early July that Sheen will make a return to television in the sitcom "Anger Management."
The series is the television adaptation of the Adam Sandler film which co-starred Jack Nicholson. Sheen will be playing a revamped version of Nicholson's character, an ex-athlete who advises people on how to deal with anger issues. "I chose 'Anger Management' because, while it might be a big stretch for me to play a guy with serious anger management issues, I think it is a great concept," Sheen said in a statement obtained by OnTheRedCarpet.com. "It also provides me with real ownership in the series, a certain amount of creative control and the chance to be back in business with one of my favorite movie producers of all time, Joe Roth." Check out the full "Two and a Half Men" opening theme song and new promotional photo below.
(Copyright ©2014 OnTheRedCarpet.com. All Rights Reserved.)
Sign up Stay Informed
Entertainment News