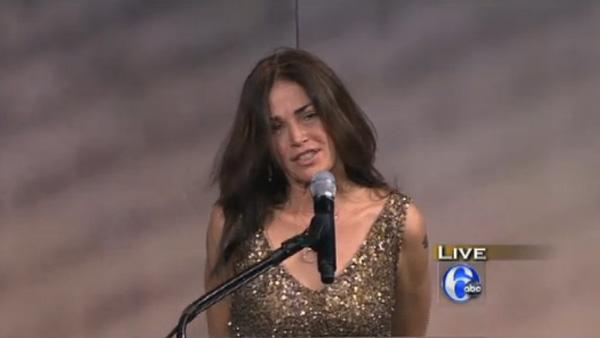 'Army Wives' actress Kim Delaney escorted off-stage during slurred tribute speech
09/23/2011 by Olivia Allin
Kim Delaney, who stars in Lifetime's "Army Wives," was escorted off-stage during a slurred speech at Philadelphia's Liberty Medal Ceremony for former defense secretary Robert Gates on Thursday night.
The actress' speech was written in the voice of her "Army Wives" character Claudia Joy Holden, but delivered in a much different manner, according to WPVI Television, sister station of KABC Television, parent company of OnTheRedCarpet.com.
"[I] served in active military duty family for five years," Delaney said during the ceremony. "I've seen soldiers come home with painful life altering injuries borne of their time and service, I've attended numerous military funerals, including that of my best friend's son."
Delaney shakily continued her speech, telling the audience, "It's all make believe. I do that as a job. It's make believe, I have the luxury to do all of this on a television show."
The actress slurred much of her speech before being escorted off stage by a woman wearing a headset.
The ceremony was held at the National Constitution Center in Philadelphia. Since 1989, the Liberty Medal has been given annually to individuals or organizations who strive to bring liberty to people worldwide.
The 49-year-old actress has a history of substance abuse and was arrested in 2002 for suspicion of drunk driving after she refused to take a breathalyzer test. She has also had two stints in rehab.
Delaney is best known for her role as Detective Diane Russell on ABC's "NYPD Blue." She got her start portraying Jenny Gardner on ABC's daytime drama, "All My Children," which ended its run on September 23 after over 40 years on air.
The actress earned an Emmy Award for her work on "NYPD Blue" and was nominated two additional times for the role.
Watch Kim Delaney's Liberty Medal speech below.
(Copyright ©2013 OnTheRedCarpet.com. All Rights Reserved.)