Entertainment News: annalynne mccord
10/01/2012
Carmen Electra partied with the cast of "90210," including actresses AnnaLynne McCord, Shenae Grimes, Jessica Stroup and Jessica Lowndes, at the Pink Taco club and restaurant on L.A.'s Sunset Strip on Saturday, Sept 29, 2012 to celebrate the CW show's 100th episode.
The guests, which also included cast members Tristan Wilds, Michael Steger, Josh Zuckerman, Tiffany Hines and Arielle Kebbel and executive producer Shana Stein, sipped on SVEDKA Vodka's specialty cocktail, The Peach Pit Colada, and enjoyed the restaurant's signature Pink Tacos. Check out photos of the party, ahead of the 5th season premiere of "90210," which airs on Oct. 8, 2012.
More annalynne mccord
05/08/2012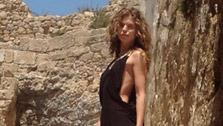 AnnaLynn McCord of '90210,' Zach Roerig of 'The Vampire Diaries,' Paul Johansson of 'One Tree Hill,' Holly Robinson Peete, Mekhi Phifer, Omar Epps and other actors began a visit to Israel on May 7, 2012. The star-studded group's itinerary includes biblical sites in the Old City of Jerusalem, the beaches of Tel Aviv and the Dead Sea and Caesarea, an ancient city build by King Herod and which was once the Roman provincial capital of Judea.
Check out photos of the celebrities during their trip, which was hosted by the Israel Ministry of Tourism and sponsored by the Israel Ministry of Public Affairs and Diaspora, El Al Israel Airlines and the Israel Foreign Ministry in coordination with America's Voices in Israel.
01/09/2012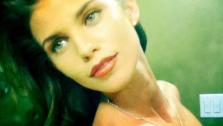 AnnaLynne McCord, who plays snobby Naomi Clark on the CW teen drama series "90210," accidentally posted a topless photo of herself on Twitter.
The actress posted the photo of her wearing nothing but a necklace on January 5. When fans alerted her to the fact that her nipple was exposed, she cropped it to a more modest version. The original photo still found its way back onto the internet though.
07/15/2011
AnnaLynne McCord, who plays snobby Naomi Clark on the CW teen drama series "90210," has been seen getting cozy with the significantly older "Prison Break" actor Dominic Purcell, while on breaks from filming her hit show.
"In between takes she would go on a short walk with him or go to a private corner and make out with him for a bit," a source old Us Weekly. "She seemed like she was beaming with excitement that he was visiting her."
Sign up Stay Informed
Entertainment News