Entertainment News: anderson cooper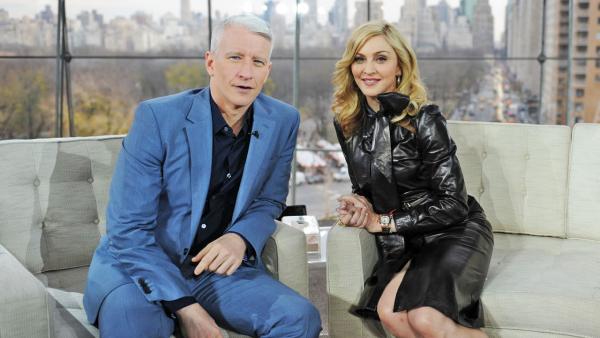 03/02/2013
Anderson Cooper will receive the Vito Russo Award at the 24th annual GLAAD Media Awards on March 16, The Associated Press reports.
The award will be presented to Cooper by Madonna at the ceremony in New York City. GLAAD President Herndon Graddick told the wire service that Cooper and Madonna are longtime friends. Both Cooper and Madonna can be seen in the photo above, which was taken in April 2012 when Madonna appeared on Cooper's talk show.
More anderson cooper
10/29/2012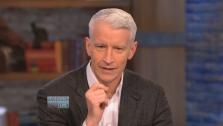 Anderson Cooper's daytime talk show, "Anderson Live," has been canceled and will end in 2013.
The New York Times reported on Monday, October, that an executive at the syndication arm of Warner Brothers studios, which distributes the series, cited disappointing ratings as the reason for the decision. The show, which is produced by Telepictures, is currently on its second season and will air its final episode after the summer of 2013.
10/04/2012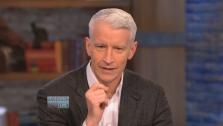 Anderson Cooper has fired back at Star Jones who said that his coming out as gay was a ploy for higher ratings.
Jones made her comment on the "Today" show in July, asking if Cooper came out "for ratings." The host told Bravo's Andy Cohen on "Anderson Live" on Thursday, October 4 that he received a lot of support from fans, but was not pleased by Jones' accusation, especially since his show wasn't on air at the time.
07/02/2012
Anderson Cooper has come out of the closet publicly as a gay man, following years of rumors, and says that he "couldn't be any more happy, comfortable with myself, and proud."
The 45-year-old veteran news reporter, who hosts the CNN show "Anderson Cooper 360" and his own syndicated talk series, "Anderson," revealed the news in a letter to The Daily Beast writer Andrew Sullivan, who is openly gay. It was posted on the outlet's website on Monday, July 2.
09/19/2011
Anderson Cooper and his mother, Gloria Vanderbilt, talked candidly about Cooper's brother's suicide in an interview set to air on Monday on Cooper's syndicated talk show "Anderson."
"When he went, I thought he was going to come back, but he didn't," Vanderbilt told Cooper. "There was a moment when I thought I was going to jump after him, but then I thought of you and it stopped me from doing that."
09/10/2011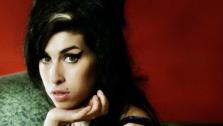 Though Amy Winehouse's cause of death has yet to be determined, the singer's father Mitch Winehouse believes that she might have suffered a seizure during her detox.
"Everything Amy did, she did to excess," Mitch Winehouse told Anderson Cooper on the set of his new show "Anderson," which debuts Monday. "She drank to excess and did detox to excess."
08/10/2011
Ashton Kutcher tops TV Guide.com's list of the highest paid stars on television - check out some of the surprising results.
04/20/2011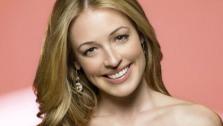 Cat Deeley, the host of "So You Think You Can Dance" will be hosting CNN's coverage of the Royal Wedding alongside Anderson Cooper and Piers Morgan and tells BBC that she's pretty nervous.
"Apparently over 750 million people - I want to say thousand, but it's million people. I think I just vomited into my own mouth slightly - are going to be watching it," Deeley told BBC. "There's a week of festivities and fingers crossed it's going to be good."
12/06/2010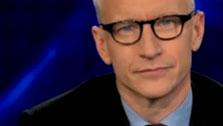 CNN anchor Anderson Cooper is preparing for his big New Year's Eve special with Kathy Griffin by showing off his new pair of glasses.
However Griffin, who was on his show for a quick interview, loudly voiced that she is not of fan of the newsman's new look.
"Wow," Griffin said before Cooper interjected with "Yes, I know. I look like Rachel Maddow."
Sign up Stay Informed
Entertainment News