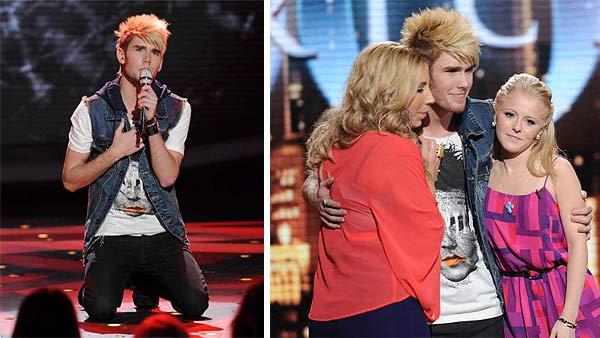 'American Idol' finalist Colton Dixon is eliminated, talks future, celebrity crush (Video)
04/20/2012 by Corinne Heller
"American Idol" season 11 finalist Colton Dixon, a Tennessee rocker touted as one of the season's heartthrobs, jokes he was not wearing his "lucky underwear" when he was eliminated from the FOX series on Thursday, but is happy he got to sing his favorite song one more time.
The 20-year-old, known for his teased blond hair, sang "Everything" by the rock band Lifehouse, weeks after he earned praise for his rendition of the soulful ballad, as his fellow contestants looked on.
"I think I took Colton a little too far out of the box and tried a little hard to be different," the rocker said in a video posted on Ryan Seacrest's YouTube page, about his Wednesday performances. "I think that if I would have chosen a song that would have fit me better, I think I wouldn't be here. Obviously, I was not wearing my lucky underwear tonight, no."
On Wednesday, Dixon sang a heavy metal version of Lady Gaga's "Bad Romance" and "September" by Earth, Wind & Fire. The judges criticized the latter performance. Randy Jackson said it wasn't as "exciting" as he and his co-judges would have liked.
Finalist Hollie Cavanagh was seen tearing up as he performed "Everything" on Thursday. The 18-year-old British-born singer was put in the bottom 3 with him and Elise Testone, a 28-year-old South Carolina rocker. Both women have been on the brink of elimination before. This was Dixon's first time.
< "My favorite song of all time is 'Everything' by Lifehouse and I just got the opportunity to sing it in front of ... 20 mil people again," Dixon said. "So that's pretty awesome."
Dixon said he looks forward to recording music in the future and says he would "love" to perform a duet with either Chris Daughtry, a former "American Idol" finalist who heads the rock band Daughtry, or Hayley Williams of the band Paramore. She also often dyes her hair various colors. Dixon had sung her band's song "Decode" on "American Idol" earlier in the season.
"I kind of have a little celebrity crush on Hayley Williams," he said.
In the meantime, he is looking forward to flying home and getting some rest before he joins the top 11 "American Idol" finalists, including the eventual winner, for a summer tour.
"The first thing I'm going to do when I get home is sleep in my bed - my California King size bed," he said.
The remaining top 6 "American Idol" finalists are Testone, Cavanagh, Jessica Sanchez, Phillip Phillips, Joshua Ledet and Skylar Laine.
She Tweeted on Friday: "I was so proud of [Dixon] last night for praising the Lord with his last performance. I couldn't help but smile and sing along!"
On Wednesday, April 25, the top 6 finalists will perform songs by Queen and also take part in a performance with original band members Brian May and Roger Taylor. "American Idol" alum Adam Lambert was supposed to sing with the legendary rock group at a UK festival but the gig was canceled. He has performed with Queen before - on "American Idol." His spokesperson said he is not set to sing with the band on the show next week.
On Thursday, Katy Perry will perform her newest single, "Part of Me," a Queen cover band called The Queen Extravaganza will perform "Somebody To Love" and "American Idol" season 10 finalist Stefano Langone will perform his new single, "I'm On A Roll."
(Copyright ©2014 OnTheRedCarpet.com. All Rights Reserved.)
Sign up Stay Informed
Entertainment News