Entertainment News: alicia keys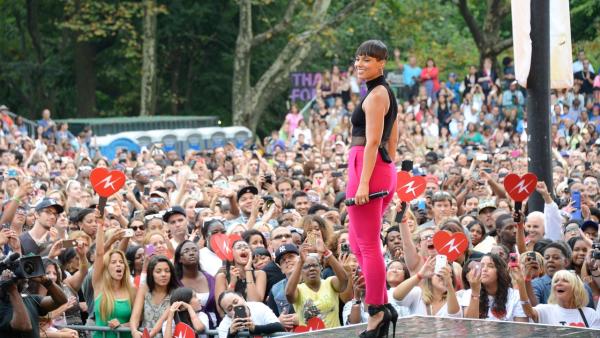 08/30/2013
See photos of Alicia Keys donning hot pink pants and a sheer crop top for her performance on "Good Morning America."
Keys performed a dew of her hits including "Girl on Fire" and Maxwell joined her on stage to sing their latest single "Fire We Make."
More alicia keys
08/30/2013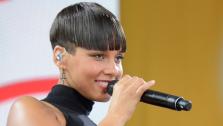 Alicia Keys appeared on "Good Morning America" and wrapped up the show's "Summer Concert Series" on Friday, Aug. 30.
The Grammy award-winning artist appeared on the show in a pair of high-waisted hot pink pants and a black crop top. She also sported a new, shorter hairstyle with bangs. She finished off her look with a pair black peep toe heels.
02/03/2013
Alicia Keys delivered a powerful rendition of "The Star-Spangled Banner" at the Super Bowl XLVII football game between the Baltimore Ravens and the San Francisco 49ers on February 3.
Keys, 32, belted the national anthem at the prestigious event, garnering an immense amount of applause and praise for her piano-arranged rendition.
01/22/2013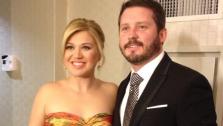 Kelly Clarkson sported a romantic, floral look at the Inaugural Ball honoring President Barack Obama on January 21.
The Grammy-winning pop star and first winner of "American Idol" attended the event with her fiance, Brandon Blackstock. She wore a strapless, sweetheart neck Oscar de la Renta gown printed with a dazzling array of white, yellow and reddish orange flowers and green leaves and posted on her Twitter page two photos of herself.
01/22/2013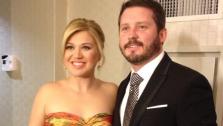 Check out photos of Kelly Clarkson, Alicia Keys, Jennifer Hudson, Stevie Wonder, Brad Paisley and other celebrities at the Inaugural Ball honoring President Barack Obama on Jan. 21, 2013.
01/19/2013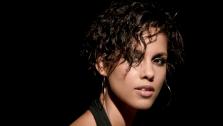 Alicia Keys commented for the first time about her upcoming performance of the national anthem at the Super Bowl, which was reported on January 18.
The singer spoke to reporters at the Sundance Film Festival in Park City, Utah, where she is promoting the film "The Inevitable Defeat of Mister and Pete." Keys served as an executive producer and composer on the movie.
01/18/2013
The Super Bowl is reportedly getting another Grammy-winner to sing at the game on February 3 in New Orleans.
Alicia Keys is set to perform the national anthem before the big game, a source told The Associated Press on January 18. Keys previously performed a medley of her songs at Super Bowl XLII in 2008.
12/18/2012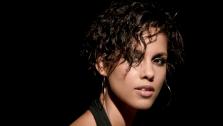 Alicia Keys released a new music video on Tuesday, December 18, for her single "Brand New Me," but it was a lawsuit over her "Girl on Fire" single that made headlines.
Earl Shuman, a songwriter who co-wrote the song "Lonely Boy" which was later recorded as "Hey There Lonely Girl" by Eddie Holman, filed a copyright infringement lawsuit in California on December 10 claiming that "Girl on Fire" has a sample of his song that was not credited, according to The Hollywood Reporter, which published the lawsuit.
12/12/2012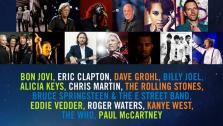 The 12-12-12 Concert for Sandy Relief, aimed at raising funds to help those affected by Hurricane Sandy, will be broadcast live from Madison Square Garden in New York on December 12 at 7:30 p.m. ET to some 2 billion people worldwide.
The event, whose proceeds will benefit the Robin Hood Relief Fund, will feature performances from Paul McCartney, David Grohl of Foo Fighters, Alicia Keys, The Who, Eddie Vedder, The Rolling Stones, Eric Clapton, Chris Martin of Coldplay, Bruce Springsteen and the E Street Band and Kanye West. Watch the concert on OTRC.com.
02/12/2012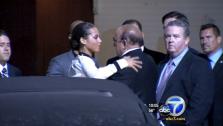 Alicia Keys consoled Davis outside the Beverly Hilton Saturday night, following Whitney Houston's death.
12/01/2011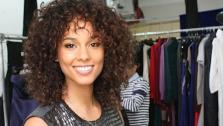 On World AIDS Day, Alicia Keys is shining the spotlight on the epidemic by releasing a documentary based on her experience traveling to South Africa with five Americans.
The documentary is called "Keep A Child Alive," after Keys' foundation of the same name. It follows a visit to South Africa during last year's World Cup with a pregnant Keys and five Americans who won the trip after texting the word that best described their feelings about Africa. Over 24,000 people applied and the five were chosen for their words including heartbeat, resilient, ubuntu, strength and conviction.
10/10/2011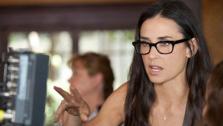 "Five," the highly-anticipated series of short films about breast cancer directed by Demi Moore, Jennifer Aniston, Alicia Keys, Patty Jenkins and Penelope Spheeris, is set to debut on the Lifetime cable network on Monday.
National Breast Cancer Awareness Month is marked in the United States in October. Check out a preview video for "Five" below.
03/29/2011
Actresses Demi Moore and Jennifer Aniston, singer Alicia Keys and Patty Jenkins, director of the movie "Monster," are set to help direct a series of five short films about breast cancer, called "Project Five," for the Lifetime cable network.
11/28/2010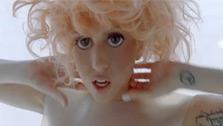 A slew of celebrities including Lady Gaga, Alicia Keys Justin Timberlake, Jennifer Hudson, Ryan Seacrest, Kim and Khloe Kardashian, Elijah Wood and Usher have pledged their support to join the Digital Life Sacrifice campaign on behalf of Keys' charity, Keep a Child Alive, reports The Associated Press.
Sign up Stay Informed
Entertainment News