Entertainment News: alice cooper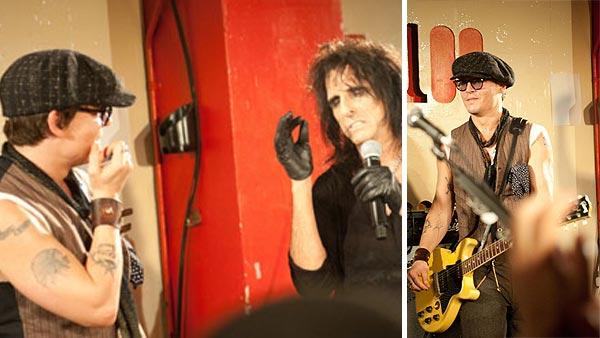 06/26/2011
Johnny Depp joined Alice Cooper and his band on stage at a concert in London on Sunday, June 26, for a surprise performance.
Wearing a brown vest, a hat and his signature shades, the 48-year-old actor played an electric guitar as Cooper, 63, sang his 1970s hits "School's Out" and "I'm Eighteen" as well as the 1979 Pink Floyd classic "Another Brick In The Wall" before a cheering crowd at the sold-out concert at the famed 100 Club on Oxford Street. Check out videos of the performance below.
More alice cooper
03/28/2011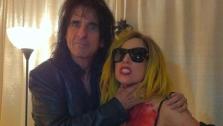 Lady Gaga is "a cut above all the other girls," says Alice Cooper, who appears in a recent photo that shows him pretending to choke the pop singer, who dons lingerie and fake blood.
"I just died and went to Hell," Lady Gaga<, a Grammy winner who is known for her daring outfits and stage shows, said on her Twitter page alongside the picture, taken backstage at one of her concerts over the weekend.
03/15/2011
Alice Cooper, a heavy metal "shock" rocker, Neil Diamond and more were inducted into the iconic Rock and Roll Hall of Fame on Monday.
Cooper, 63, wore a fake blood-splattered shirt and brought children along to sing his hit 1972 song "School's Out" during the ceremony at the Waldorf Astoria hotel in New York City. He later thanked the crowd while wearing a live snake around his neck.
12/15/2010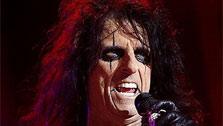 Alice Cooper, a heavy metal "shock" rocker, says he and his band mates are happy to become the Rock and Roll Hall of Fame's "arch villains" when they are inducted along with Neil Diamond, known for the hit "Sweet Caroline", and other artists into the iconic club in 2011.
The hall will induct Cooper, Diamond and performers Tom Waits, Dr. John and Darlene Love during an annual ceremony on March 14, 2011, at the Waldorf Astoria hotel in New York City. The event will be broadcast on the Fuse channel.
Sign up Stay Informed
Entertainment News