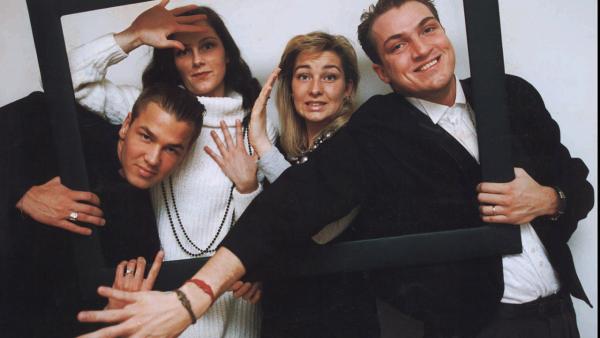 Ace of Base's Ulf Ekberg responds to new 'Nazi' report
04/25/2013 by Corinne Heller
Ace of Base rapper Ulf Ekberg has responded to a fresh report regarding his past ties to neo-Nazis, saying that he has "always been deeply regretful" of a former period of his life and denying that a former group he performed with released songs with racist lyrics. The 42-year-old father of three, who now works in a marketing firm, has discussed his troubled past before but not with U.S. media outlets. In the 1997 Ace of Base documentary "Our Story," by filmmakers Benzon and Gunilla Leinig, Ekberg said that when he was a teenager in his native Sweden, he was part of a gang that "started to be connected with skinheads." "I ended up in this situation that hate took over my senses," he said. I'd never been against a democracy in my whole life. I'd never been against Jewish people my whole life, either. But I [was] in situations where people had swastikas. For me, I didn't care. The thing was, I wasn't against it. That was my crime. Suddenly, I was 18 and I started to realize this is not the life I want." Ekberg made headlines earlier this week when the website
Noisey
ran a feature article titled "Ace of Base's Secret Nazi Past," which was cited by other outlets. "I have always been deeply regretful of that period in my life, as I strive to bring happiness to people, and during that period I did not live up to that standard," Ekberg told
E! News
in an interview posted on Thursday, April 25. "I have not been involved in violence or political activism in the past 25 years. However, I find some of my thoughts from those days nauseating to myself today."
"Uffe Was a Nazi!" record
The Noisey report cited his involvement in a 1980s synth band called Commit Suiside and a 1990s record titled "Uffe Was a Nazi!," which was released by a Swedish label. The cover shows a man resembling Ekberg giving a Nazi salute. The record contains six songs allegedly performed by the band. Ekberg told E! News that he was a member of the group and that they recorded two of the songs. He said the other four, which he described as "skinhead music with very racist lyrics," have "absolutely nothing to do with Commit Suiside." "Commit Suiside was a New Wave music band creating and performing electronic music on synthesizers without any political touch or agenda," Ekberg said. "The racist songs on this demo were not by us, but our potential association with such groups is a matter I truly regret." He added that he is "truly deeply sorry for any hurt and disappointment" caused to Ace of Base fans and that the group "never shared any of these opinions and strongly oppose all extremist opinions on both the right and left wing." Band mate Jonas Berggren said in the Ace of Base documentary that he and Ekberg began recording music together after he put his past behind him and stopped performing with a band that played "harder" music. In 2011, Ekberg told the Swedish website
nyheter24.se
that he got death threats from skinheads after he cut ties with them and wore a bullet-proof vest when he first started performing with Ace of Base. The group rose to international fame in the 1990s with hit pop songs such as "The Sign" and "All That She Wants." Watch the music videos below.
(Copyright ©2014 OnTheRedCarpet.com. All Rights Reserved.)
Sign up Stay Informed
Entertainment News