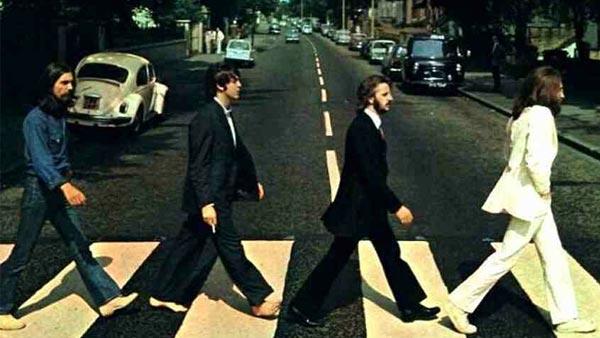 Abbey Road crosswalk from Beatles album now a heritage site
12/22/2010 by Corinne Heller
The Abbey Road black-and-white-striped crosswalk in London, which appears on the cover of the Beatles' album by the same name, has been deemed a heritage site by the British government.
The historic landmark is located near the Abbey Road music studios, where the 1960s band recorded the record, as well as the American School in London. Scores of tourists flock to the crosswalk to recreate the iconic scene of Paul McCartney, John Lennon, George Harrison and Ringo Starr walking on it.
"It's been a great year for me and a great year for The Beatles and hearing that the Abbey Road crossing is to be preserved is the icing on the cake," >McCartney said in a statement posted on the website of the UK Department for Culture, Media and Sport.
The Abbey Road music studios themselves were listed as a heritage site in February. "Abbey Road" was the Beatles' 11th studio album and was released in 1969. It contains the songs "Come Together" and "Here Comes the Sun".
"This London zebra crossing is no castle or cathedral but, thanks to the Beatles and a ten minute photo-shoot one August morning in 1969, it has just as strong a claim as any to be seen as part of our heritage," Tourism and Heritage Minister John Penrose said about the crosswalk.
McCartney, 68, and Starr, 70, are the only surviving Beatles members and continue to make music. Lennon was shot dead outside his New York home in 1980, when he was 40. George Harrison died from cancer at age 58 in 2001.
McCartney was a recent recipient of the 2010 Kennedy Center Honors and was presented with his ribbon at a pre-gala dinner hosted by Secretary of State Hillary Clinton in Washington. He also won the Gershwin Prize from the Library of Congress.
McCartney also appeared on "Saturday Night Live" earlier this month, where he poked fun at an attack of the UK's Prince Charles and his wife Camilla by student protestors angry about a tuition hike.
(Copyright ©2014 OnTheRedCarpet.com. All Rights Reserved.)
Sign up Stay Informed
Entertainment News