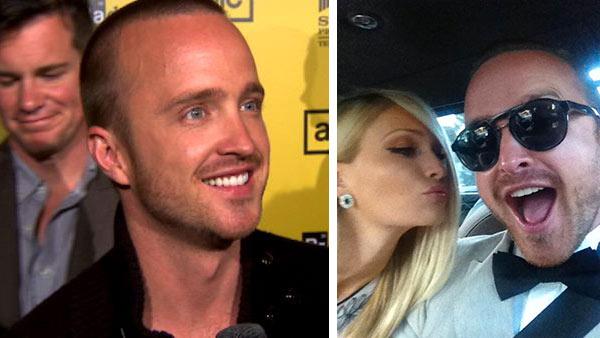 Aaron Paul of 'Breaking Bad' weds Lauren Parsekian
05/27/2013 by Corinne Heller
Emmy-winning "Breaking Bad" star Aaron Paul and fiancee Lauren Parsekian are married!
The two tied the knot in Malibu, California on Sunday, May 26, after being engaged for more than a year, People magazine reported.
(Check out which other celebrity couples got married in 2013!)
Parsekian wore a strapless, corset-style ballgown with a sweetheart neckline and a tulle skirt, left her long, wavy blonde hair down and carried a bouquet of white roses and feathers, while Paul donned a black tuxedo, white dress shirt and bowtie, as seen in a photo posted by People.
UPDATE: The groom shared an Instagram picture of himself with his bride, both donning black and white masquerade masks.
"A day will never go by without me reminding you how special you are," he said. "Thanks for last night my pretty little bird."
Parsekian had earlier posted an Instagram a photo of herself getting ready, saying: "Wedding time. Did my own make up! And hair by this babe @michaelkanyonhabib."
On Saturday, Paul, 33, posted on his Twitter page a photo of the two in a car. That day, the two hosted a rehearsal dinner at the Chateau Marmont hotel in West Hollywood, People reported.
"And so it begins. #mrmrspaul," Paul Tweeted.
Paul plays Jesse Pinkman in the AMC drama series "Breaking Bad," which is set to end this year after five seasons. The last eight episodes will being airing on Aug. 11. Paul won an Emmy for his role last year, marking his second win, and mentioned Parsekian in his acceptance speech.</p.
"My beautiful, most inspiring fiancee, Lauren, thank you so much for looking at me the way you do. You truly saved me," he said.
Parsekian is the president and co-founder of the Kind Campaign, a group that raises awareness about female bullying. The two got engaged in Paris over the New Year's holiday in 2012.
(Copyright ©2014 OnTheRedCarpet.com. All Rights Reserved.)