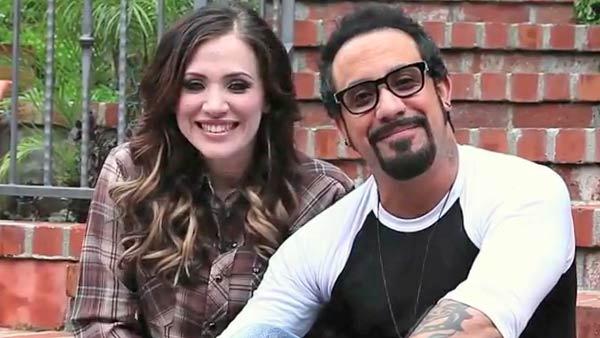 A.J. McLean of Backstreet Boys expecting first child with wife Rochelle DeAnna Karidis
04/29/2012 by Kristina Lopez
A.J. McLean of Backstreet Boys fame announced some big news to fans on his YouTube page. He and wife Rochelle DeAnna Karidis are expecting their first child. In the video, which can be seen below, McLean and Karidis are seen sitting on steps outside. "I just wanted to say thank you guys for all your love and support," the 34-year-old said. "We recently got married -- I was the most recent Backstreet Boy to take the plunge." "Because we love you all so much, we wanted to share with you, for the first time, something very special," he added. Then he and his wife chimed in together, "We're having a baby!" McLean and Karidis
wed in December 2011
at the Beverly Hills Hotel. The singer shared the news on his Twitter page on April 29 and shared that he's working on a new solo album. "Hello all! Second night at the o2 London than day off and I'll b in the studio working on my new solo record,"
he Tweeted with a photo of himself
. McLean released his debut solo album in January 2010 called "Have It All." NSYNC member JC Chasez was a writer on one of the album's songs. McLean's rise to fame was with popular 1990s boy band "Backstreet Boys," who began their 2011 tour with "New Kids on The Block." The European leg of the tour kicked off in April 2012. Check out McLean and Karidis announcing the news below.
(Copyright ©2014 OnTheRedCarpet.com. All Rights Reserved.)
Sign up Stay Informed
Entertainment News